You will feel at home
Comfortable duplex in the center of Česká Lípa
The accommodation in the center of the town, only a few steps from the main square. It is a two floor apartment with more than 100 sq.m., which consist of a living space with a kitchen, two bedrooms, two bathrooms and study. The duplex is comfortably equipped. You will really feel at home.
Ondřej & Štěpánka
Cozy rooms and a great service


Comfortable rooms
There are two large bedrooms in the attic for a good night´s sleep.

Food
A fully equipped kitchen is availible, with free coffee and tea. There is a restaurant and a bakery on the main square, just 90 meters from the apartment. A café is on the ground floor of the building.

Parking and Taxi
You can park your car right in front of the house. From Monday to Friday, this parking is paid. Free parking can be found in the nearby street of Roháče z Dubé (50.688837, 14.535372), or Újezd (50.688735, 14.538888).
A taxi company is based in the building.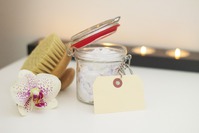 Explore the surroundings

Our Apartment Toms is a perfect base for exploring the surroundings of Česká Lípa, with many interesting places worth visiting.
Summer and swimming
You can find many interesting places for your summer vacation in the vicinity of Česká Lípa. The most famous is the Macha Lake, which is the eighth largest pond in the Czech Republic (despite being called a lake).

https://www.regatamachovojezero.cz/

Another is Sloup v Čechách, where you can find a rock castle and a lookout tower.

https://www.koupalistesloup.cz/

We look forward to your visit

Apartment Toms, Mariánská 209/16, Česká Lípa, 47001
GPS: 50.687463, 14.538098